New Arrived Cars! (Displays it to four.)
Profile of CM Management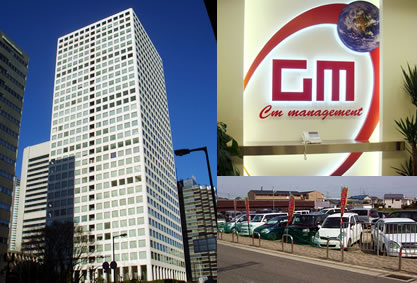 About us
We export many different types of vehicles to our customers abroad. We always give good service to our customers first and foremost and make sure we contact with our customer so we can update them in real time. Our inspection staff check the cars and motorbikes before we export so we promise that we can supply only cars in an excelletn condition to our customers . We have good business with buyers all over the world. We are looking forward to have good business with you. Again, we can promise that we will supply you with great products and service.
We are already doing a lot of business in selling cars to our customers in the Caribbean, Africa, New Zealand, Australia and the UK.

Our business style
We have been successfuly supplying cars in an excellent condition with no scratches or dents to our customers overseas. Being a used car dealer in Japan we understand how most Japanese companies usually operate. Almost all car companies in Japan make a lot of profit for each car they sell but our business style is different. We only take a small profit for each car so we supply many more and increase our customer numbers in Japan and abroad. We want to show our international buyers how great Japanese cars are and have a mutually beneficial business relationship. Perhaps the most unique thing about our company is that we sell cars to our customers after we buy the cars from the sellers directly in Japan. From them, we get a lot of information about each car and we can supply our international customers with this information so that we always have good business.

Where do we get our cars from?
We do business with a lot of companies in Japan such as Japanese car makers (such as Toyota, Honda, Nissan, Mazda, etc), We also have access to all of the Auto Car Auction Markets in Japan (such as USS ,CAA, JU, TAA, etc) so we can supply cars to our customers for a good price and with good conditions.
What's new!!
Company's System of Operation
Stock list
Our comapny has about 50-100 cars in stock in our yard. We supply our cars in stock to our overseas customers for a good price. We reserve the shipment, inspections and any other steps necessary to clear the vehicle in Jaapn as soon as we recieve the CIF or C&F payment. Each case is different but you will definitely receive your car within a weeks of transferring the payment to us. We always supply a speedy business.

Please take a look our stock list

Auction System
We are members of all the auction markets in Japan so we can get cars in a good condition as they come with pictures and a detailed condition report. .If you know the Japanese Auto Auction systems, I recommend the Auction system at our company.
We can provide our customers the Japan Auto Auction ID after so they can check the data on the Japan Auto Auction website see the information of the car that they are interested in. Japan Auto Auction always have over 100,000 cars displayed on their website. It is the biggest market for cars in Japan. We can get cars from any auction market in Japan We can supply good any cars.
We always the correct informations about the cars on the auction so we can build a good business relationship with them. Our car mechanic experts inspect all the cars which we buy from the Auto Auction in Japan and we make sure to only export after all inspections have passed our strict inspections. .We send pictures of the cars to our customers before export and make sure the cars are in an excellent condition.
We can supply any car from the Japanese auto auctions even if we do not have it currently in our stock yard. We can get any car we want from the Auto Auction and therefore we believe it is the best system to supply cars to our buyers from all over the world.

Please check this URL how to get cars from our Auction system.